The Macys One Day Sale February 2015 just happened, but I have the Macys One Day Sale patterns, as well as a great Macy's giveaway, the HOT Ticket Sale and all the information you need below to help you save big…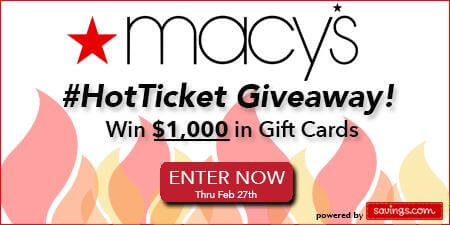 The last Macys One Day Sale was Saturday, February 21, 2015 with a preview day on Friday, February 20, 2015.
Several of you have asked what the difference is between the Saturday One Day Sale and the preview day on Friday and the answer is…NOTHING! I'm not sure why Macy's does it this way, but I suggest going in on Friday if you can to get the absolute best selection (just make sure to go in the morning so you can take advantage of the doorbuster deals too).
The promo code for the latest Macy's Sale is below, but first, here are all the past Macys One Day Sale dates to help you see a pattern and predict future Macys One Day Sales:
Macys One Day Sale 2015:
* February 20-21, 2015
* January 29-30, 2015
* January 16-17, 2015
* January 2-3, 2015
Macys One Day Sales 2014:
Believe it or not, there were THREE Macys One Day Sales in December:
*Friday, December 26, 2014
*December 20, 2014 with it's preview day on Friday, December 19, 2014
* Wednesday, December 10, 2014 with a preview day on Tuesday, December 9, 2014
The November Macys One Day Sale was Wednesday, November 19, 2014, with a preview day on Tuesday, November 18, 2014.
The October Macy's One Day Sale was SATURDAY, October 18, 2014 – with a preview day on Friday, October 17, 2014.
The Macys One Day Sale before that TOTALLY caught me off guard because it came on the heels of Labor Day. Other than that, the Macys One Day Sales have been fairly consistent.
If you're looking for a pattern, here are the previous 2014 Macys One Day Sales:
*  Saturday, September 6, with a  preview day on Friday, September 5, 2014.
*  Saturday, August 16, 2014, with a preview day on Friday, August 15, 2014.
* Saturday, July 12, with a preview day on Friday, July 11.
* Saturday, June 14, 2014 with a preview day on Friday, June 13, 2014.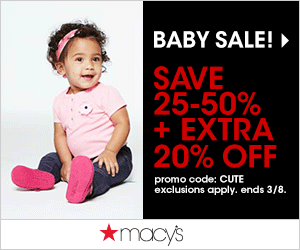 The Macys One Day Sale is one of the best time to save on everything from clothing to housewares (and even wedding gifts!), but even when there isn't a One Day Sale going on, Macys always has great deals to help you find those perfect gifts and perfect prices.
To save even more at this Macys Sale, get your Macys Printable savings pass…
The Macys One Day Sales can happen right in the middle of the week, with the preview day on Tuesday and the One Day Sale itself on Wednesday, even though typically, the Macy's One Day Sale happens on Saturday, with the preview day on Friday.
Check below for a special discount code 
The Macys One Day Sales are usually the third weekend of the month. Stores are typically open from 9am – 11pm, with special doorbuster deals through 1pm on Friday AND Saturday, but sometimes the stores will open as early as 6 or 7am for the One Day Sale Doorbuster Deals.
A ton of people (including us!) register at Macy's, so their One Day Sale is the perfect time to get your friends EXACTLY what they want while still saving a TON of money.
Macy's normally offers free shipping anytime when you spend $99 or more, but they were offering free shipping with orders over $75 recently. Even a male colleague of mine took advantage of the savings and bought a full suit during the Macys One Day Sale for just $80 (normally $300!).
Macy's One Day Sale Doorbuster deals typically include great deals (including BOGO) on things like:
jewelry

shoes/sandals

lingerie

kitchen accessories

bedding

and much more!

 
Below are just a few of the deals for this Macy's One Day Sale event (some are doorbuster deals from 9a-2p):
Clearance suits for her $59.99
Tag Springfield 5 piece luggage sets $59.99
Mens ties $19.99
Bedding sets from $39.99
Diamond Jewelry from $49.99

And the following One Day Sale deals can be found at Macys.com:

Impulse handbags 25% off — select brands includes Steve Madden, Carlos by Carlos Santana, Big Buddha and more.
Belle de Mer Two-Row Cultured Freshwater Pearl Strand Necklace in Sterling Silver (9-1/2-10-1/2mm)
Victoria Townsend Diamond (1/2 ct. t.w.) XO Bracelet in 18K Gold over Sterling Silver
Converse Girls' chuck Taylor All Star Party Casual Sneakers from $24.98
The deals from the last Macy's One Day Sale event included:
extra 40% off clearance handbags
Select bras: 2 for $19.99
extra 50% off women's clearance sportswear
40% off small housewares (such as blenders, toasters, etc.)
65% off men's suits
30-50% off jewelry, plus an extra 25% off
75% off clearance shoes
mattresses as low as $247 (with free delivery and set-up on purchases of $797 or more)
Overall, you can typically also find deals like these at the Macys One Day Sales:
60-85% off clearance apparel
65% off select luggage
75% off select men's dresswear
If I hear about more of the specific deals being offered during the upcoming Macy's One Day sale, I'll update this post (or if you hear of any great deals, please post them below!)
Some Macys stores may even open as early as 7am during the One Day Sale weekend, but make sure to check with your local store for exact store hours.
The Macys One Day Sales are not the only time to save money – they're ALWAYS offering great deals – especially when you can save extra off of their already low clearance prices. And don't forget, you can always get free shipping & free returns online with any purchase of $99 or more and there is no code needed for this.
Macy's is always offering discount codes, savings passes and one day sales, so keep checking back for the latest ways to save
In full disclosure, if you shop through the ads below, I will make a (very) small commission, but it helps support me in continuing to find great deals like these for you. Thanks!
Macys One Day Sale February 2015
Where to shop: Macys.com
or in-store with this printable Macy's Savings pass
When: through March 1, 2015
Savings: Save 20-50% with 5-Day Specials + Extra 15% Off!
Online Discount Code to use: TICKET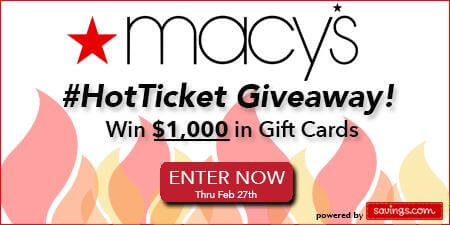 And if you want to enter the Macy's #HotTicket giveaway, here's what you need to know…
Giveaway Details:
* Wednesday, February 25th at 9:00 AM ET to Friday, February 27th at 11:59 PM ET.
* Twenty (20) winners will receive a $50.00 gift card to Macy's.
* Users can enter the giveaway by heading to the Macy's page on Savings.com and submitting their email address on the form at the top of the page.
* The winners will be chosen via a lottery drawing and notified on Tuesday (3/3) via the email address they used to enter.
* See complete Official Rules for entry instructions, full prize descriptions, restrictions and other important details.
If this Macy's Promo Code has already expired, check out the discount codes below to find the latest Macy's deals!