Looking for the Macys Friends and Family Sale Dates 2015?
The Macys Friends and Family Sale dates for Winter 2014 has passed (it was through December 8).
However, another great Macy's sale is going on right now and you can get GREAT savings there (and more details on it below).
The HOT Ticket Sale and all the information you need below to help you save big…
Besides the Macy's One Day Sale, the Macys Friends and Family Sale is my favorite time to get great deals at Macy's.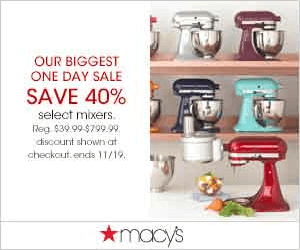 If you know anything about me, you know Macy's is one of my go-to stores since I can find everything from clothes for my family to cookware and just about everything in between.
Fox example, during the last Macys Friends and Family sale I found some beautiful white platters that were already 50% off, and then got an extra 25% off through the Friends and Family sale.
This is The Cellar Whiteware and is both microwave and dishwasher safe. I thought it would be great for those rare occasions when I have to cook and display food on TV, but it's become a favorite for family meals and home entertaining. This platter typically costs $36, but I was able to get two during the last sale for less than $20!
Another reason Macy's is a top stop is because I can refill my Angel perfume in their fragrance department, rather than purchasing a new bottle every time – environmental AND economical

You'll typically come across Macys Friends and Family Sale Dates about once a quarter. Stores are usually open from 9am – 11p. 
It also goes without saying that we are SMACK dab in the middle of several holidays that lend themselves to gift-giving, such as Graduation & Father's Day. The Macys Friends and Family Sale is the perfect time to get your friends & family EXACTLY what they want while still saving a TON of money.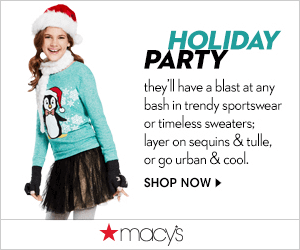 Another money saving tip: you'll receive free shipping when you spend $99 or more! And even when you order items from Macys.com, you can still return them in store easily.
Macy's Friends and Family Sales typically include great deals (including BOGO) on things like:
jewelry

shoes/boots

lingerie

kitchen accessories

bedding

and much more!

 
If I hear about more of the specific deals being offered during the upcoming Macys Friends & Family Sale, I'll update this post (or if you hear of any great deals, please post them below!)
The Macys Friends and Family Sales are not the only time to save money – they're ALWAYS offering great deals – especially when you can save extra off of their already low clearance prices.
And don't forget, you can always get free shipping online with any purchase of $99 or more and there is no code needed for this.
In full disclosure, if you shop through the ads below, I will make a (very) small commission, but it helps support me in continuing to find great deals like these for you. Thanks!
Macys Friends and Family Sale Dates 2015
Where to shop: Macys.com

When: through February 27,2015
Savings: 20-25% off with this Macys Printable Savings Pass
Online Discount Code to use: TICKET/SALE25
And if you want to enter the Macy's #HotTicket giveaway, here's what you need to know…
Giveaway Details:
* Wednesday, February 25th at 9:00 AM ET to Friday, February 27th at 11:59 PM ET.
* Twenty (20) winners will receive a $50.00 gift card to Macy's.
* Users can enter the giveaway by heading to the Macy's page on Savings.com and submitting their email address on the form at the top of the page.
* The winners will be chosen via a lottery drawing and notified on Tuesday (3/3) via the email address they used to enter.
* See complete Official Rules for entry instructions, full prize descriptions, restrictions and other important details.
If this Macy's Promo Code has already expired, check out the discount codes below to find the latest Macy's deals!